Pre-holiday packing list for the south
WHAT DO I NEED DURING MY HOLIDAY?
We have all been there.
Nous vous recommandons de planifier votre voyage bien à l'avance pour éviter les dépenses inutiles. Assurez-vous également d'avoir une liste de contrôle pour ne nothing to forget. Une bonne organisation et une bonne préparation sont les clés de bonnes vacances.
Ce sont nos meilleurs conseils et la liste de contrôle ultime à ne pas oublier before you leave on holiday. Si vous visitez l'un de nos villages Ami Soleil, vous pourrez l'utiliser pour planifier votre voyage.
HAVE A POCKET WITH ALL YOUR IMPORTANT PAPERS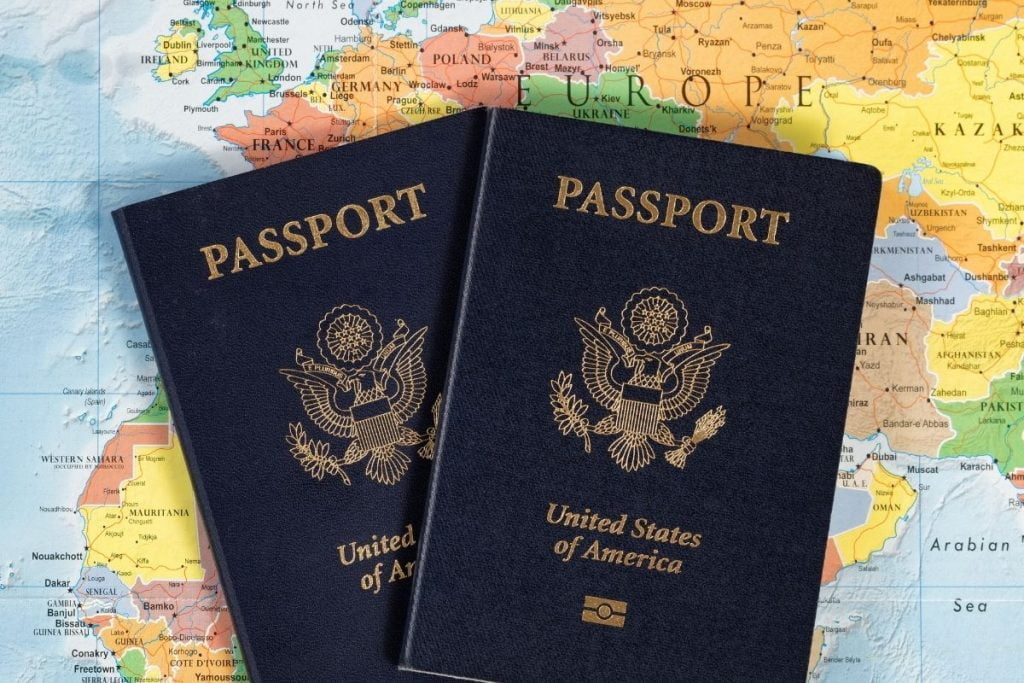 In this pocket you can store your money.
Your carte d'identitéor your passports.
Your driving licence.
Your bon d'échange and papers for the réservation de l'hébergement. Cela facilitera votre enregistrement et votre arrivée.
Your clés de maison sont nécessaires pour le voyage de retour. Cela vous évitera de les perdre pendant vos vacances.
Your carte de santéand your prescriptions pour les traitements habituels qui vous sont nécessaires.
Your portefeuille contenant vos différents moyens de paiement. L'argent liquide est indispensable en cas d'urgence. Renseignez-vous sur les moyens de paiement autorisés dans le cadre de vos vacances. Les cartes bancaires ne sont pas toujours acceptées. N'oubliez pas d'apporter vos chèques vacances. C'est le moment idéal pour les utiliser.
In the event of loss or flightWe recommend that you do the following une version numérique. It is possible to save them in an e-mail, in a cloud, or in your photo gallery.
Vous pouvez également envisager de prendre une photocopie des papers les plus importants afin d'avoir une sauvegarde en cas de perte ou de vol de votre sac. Vous trouverez des pochettes de voyage spéciales, discrètes et non visibles sous votre manteau. Cela vous permet de garder vos papiers importants à portée de main.
FIND SPECIAL PHARMACY LUGGAGE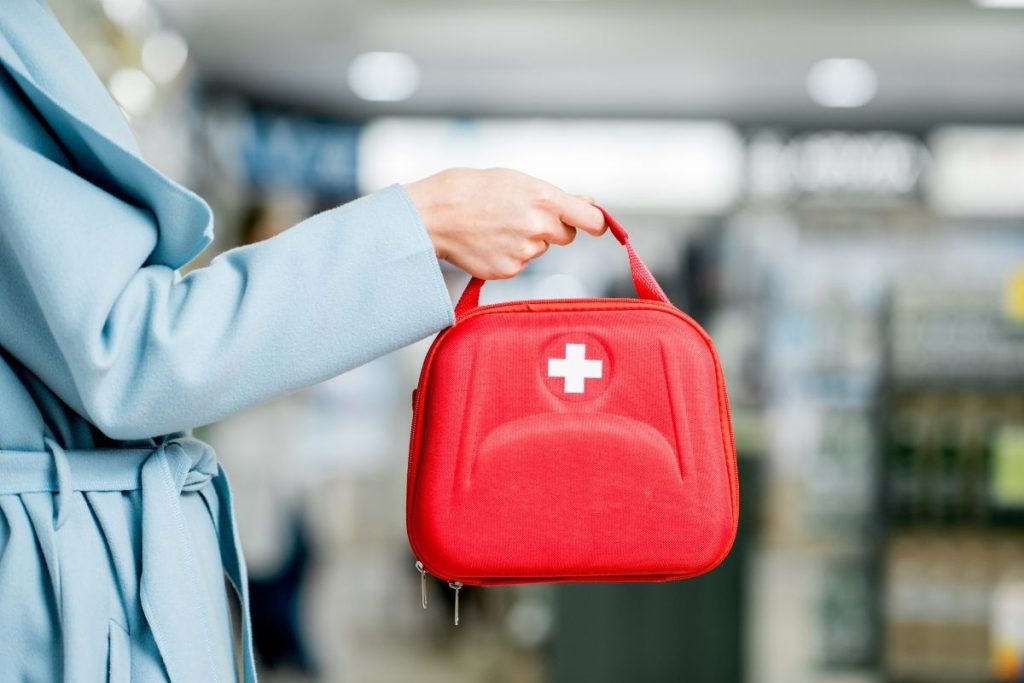 The first aid kit est souvent oubliée. Elle est utile pour les petites blessures, les maux de tête et les maux d'estomac. Pour être sûr, nous vous recommandons de garder quelques éléments essentiels dans le sac.
of plasters de différentes tailles
from désinfectant
From médicaments de type paracétamol pour traiter la fièvre ou les douleurs.
A crème against blows from Arnica type.
Crème apaisante contre les coups de soleil like Biafine.
From médicaments contre le mal des transports.
Traitement pour la diarrhée.
Crème apaisante contre les morsures like Apaisyl.
A pair of small scissors
of compresses
a pince à épiler
from ruban adhésif
of cotton pads
paper tissues
PROVIDE TOILETRY KIT
This kit limit your luggage. You don't have to take your whole bathroom with you! We don't always realise it, but all these toiletries take up space. So you have to limit yourself.
For liquid products, we recommend that you use small containers spécialement conçus pour le voyage. Cela vous permettra from gagner de la place et vous n'aurez pas à emporter la grande bouteille de shampoing ou de savon. N'oubliez pas les produits essentiels !
Shower gel
Shampoo
Déodorant
Eau de toilette or perfume
A misting machine or a fan
Your moisturising lotions for body and face
From crèmes solaires (avant et après l'exposition)
A scrub to exfoliate your skin
A gel antibactérien
From masks
Brosse à cheveux or comb
Your hairdressing products
From élastiquess, the pliers
Kit d'épilation à la cire
Towels. We recommend towels made of microfiber pour les voyages, car elles sont légères et peuvent être rangées dans un petit espace.
A flannel
Your brosse à dents and your toothpaste
From cotton padss, the cotton buds
A small mirror
A nail clippers or a lime à ongles
A détergent in format voyage
Si vous allez à la plage, un sac spécifique est nécessaire pour les vêtements sales.
Pour la beauté, pensez à :
Your make-up in travel size
A démaquillant
Tampons démaquillants
Vernis à ongles and dissolvant pour vernis à ongles
The protections périodiques pour femmes
THE ORGANISATION OF A SUITCASE
Il est important de séparer your luggage en plusieurs catégories. To do this, you can use organisateurs de suitcases. Ou bien, vous pouvez simplement insérer des poches dans vos valises pour améliorer votre visibilité et optimiser l'space. Vous pouvez, par exemple, avoir une poche séparée pour vos sous-vêtements and another for your jewellery. Une autre poche serait destinée à your shoes.
Prévoyez vos tenues à l'avance pour éviter de dépenser trop.
Il existe de nombreuses façons d'organiser vos bagages et de gagner de l'espace. La méthode la plus connue consiste à roll up each v êtement et à le mettre dans la suitcase. Vous gagnez de l'espace et vous ne froissez pas vos vêtements. Au lieu de cela, roulez correctement le garment.
Finally, apportez des vêtements qui ne sont pas froissés. Cela vous évitera d'avoir à repasser vos vêtements en vacances.
Here are some items you should not forget to pack
sous-vêtements
socks
pyjamas
Slippers
Shoes (baskets, chaussures de tous les jours, tongs, tongs, chaussures de soirée)
vêtements de fête (vous pouvez demander à l'avance s'il y aura des fêtes à thème auxquelles vous aimeriez participer).
vêtements de sport
vêtements de plage
swimwear
Accessories (bags and scarves, belts, bags, sunglasses ...)
jewellery
If the weather turns cold, you can use a jumper or a waistcoat.
A imperméable en fonction de la météo
A hator a cap
Attention à ne pas trop remplir votre valise ! Lorsque vous faites des achats, vous devez toujours laisser suffisamment d'espace pour qu'ils puissent être remis à leur place initiale.
PACK AN ENTERTAINMENT BAG
You can take your objets connectés with you during the trip, or only during the trip.
From board games à partager avec la famille et les amis
From chargers and game consoles are available if you want to take them with you on holiday.
card games
books
Pour occuper vos enfants et vous donner de quoi écrire, vous pouvez utiliser des pencils of colour and markers.
If you are going with your family, take some of your toys préférés. Vous ne voulez pas emporter une trop grande partie de leur salle de jeux avec vous !
Rechargez vos téléphones portables, votre computer or your tablet.
A multi-socket
The camera with its rechargeable batteries
A external battery
Your helmet and your headphones
Plan your route à l'avance à l'aide d'un GPS et d'une carte routière.