The 5 best typical Spanish recipes
The flat The most common Spanish food and the most popular Spanish food is undoubtedly Paella.Spanish But have you ever tried other dishes Spanish?
La Paella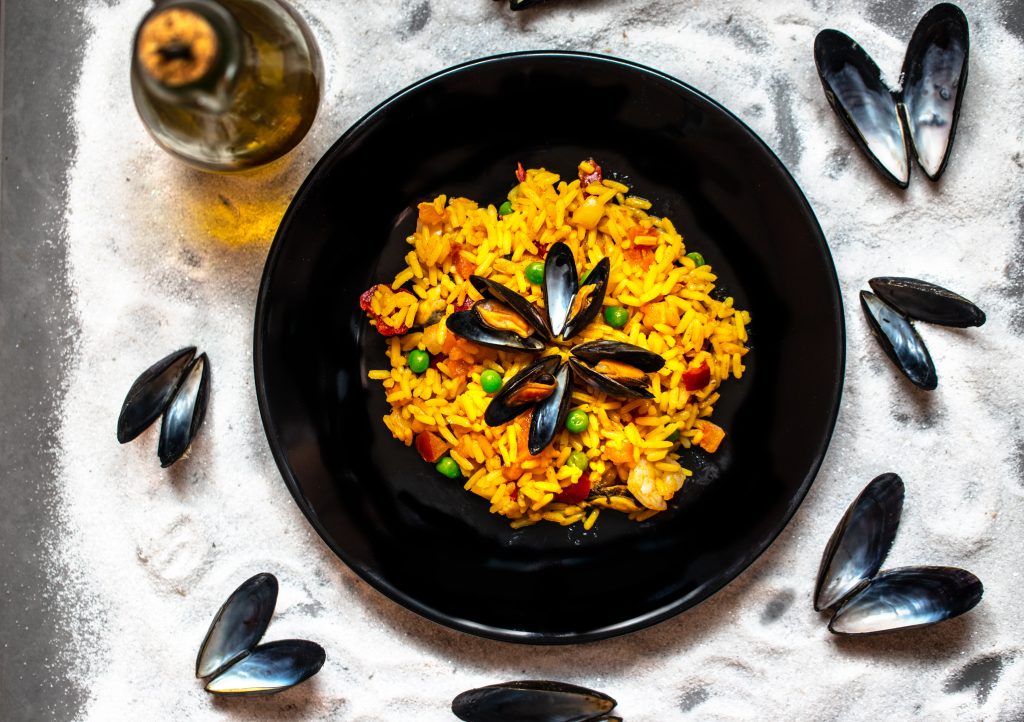 The main flat The traditional Spanish dish is paella, which can be prepared with many ingredients. It consists of seafood, vegetables and chicken. Paella is both delicious and bright.
Ingredients :
1 litre of chicken stock

45 ml tomato puree

2.5 ml sweet paprika

2 fresh artichoke bottoms, cut into small quarters

1 pinch of saffron

340 g chicken thighs, boneless and skinless, cut into pieces

3 tbsp. olive oil

1 onion, chopped

2 cloves of garlic, chopped

1 red pepper, quartered

2 squid cut into thin strips

150 g chorizo, cut into slices

330 g paella rice

125 ml white wine

340 g of coarse fat shrimp shelled

20 moulds

75 g peas

Lemon
Preparation:
In a large saucepan, combine the stock, tomato paste and paprika. Bring to the boil, then leave to cool. simmer for 5 minutes. Add saffron. Stir in salt and pepper. Keep warm.

Meanwhile, heat the oil in a large non-stick pan or paella pan. Add the garlic and onion. Cook for a further minute. Add the pepper, squid and chorizo. Season with salt and pepper.

Cook for a further 2 minutes, stirring occasionally, then add the rice to the pan and mix well. Cook for 1 minute. Add the white wine. Add the stock to the artichokes, and leave to simmer. simmer over medium heat for 10 minutes.
Remove the shrimp on top. Then insert the mussels into the rice, turning the rice over. Continue cooking for another 10-12 minutes, or until the rice becomes slightly firm and the broth is thickened but not completely absorbed.

Remove from heat and add peas. Cover with aluminium foil and leave to stand for 3 minutes. Serve with lemon wedges.
Gaspacho
Gazpacho is a flat Spanish soup that everyone has heard of. It is a cold, colourful soup made with fresh tomatoes and a variety of vegetables. Gazpacho, a cold soup made from mixed raw vegetables, is very popular in southern Spain (Andalusia) and southern Portugal.
Ingredients for 4 persons :
1 kg of tomatoes

3 cloves of garlic

1 cucumber

1 red pepper

1 green pepper

1 onion

150 g breadcrumbs

30 cl of water

4 tbsp. olive oil

3 tbsp. sherry vinegar

2 tbsp. sugar

2 tbsp. salt

½ tsp Espelette pepper

Pepper
Preparation:
Place 150 g of sandwich bread in a bowl. Drizzle with 2 tablespoons of olive oil.

Peel, wash and seed. It can be cut into 2 cm pieces.

Wash, de-seed and chop the tomatoes and peppers.

Peel the garlic and onion and cut them into small pieces.

Put the bread in a blender.

Add 2 tablespoons of olive oil, the sugar and sherry vinegar to the peppers, cucumbers, onions, garlic and tomatoes.

Blend to a smooth mixture. If necessary, adjust the seasoning. You can thin the gazpacho if it is too thick.

Put the gazpacho in the fridge and keep it for at least three hours.
Churros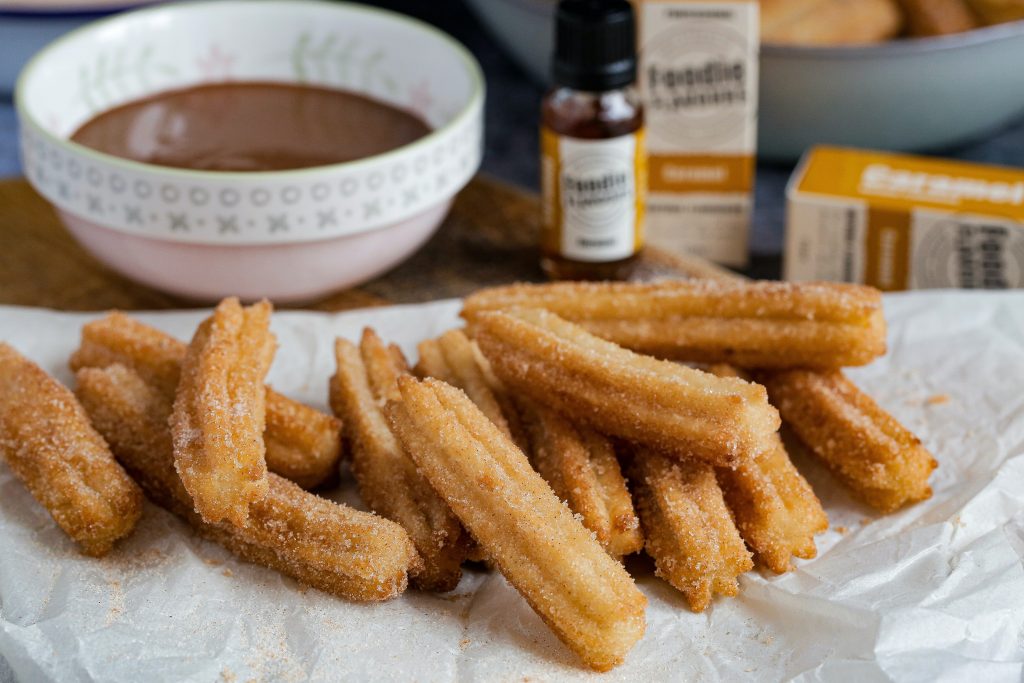 What is the most Spanish breakfast? Of course, chocolate con churros! It is a flat of the Iberian Peninsula. The exact origin of churros, like many dishes is unknown.
Ingredients for 4 persons :
1/2 l water

250 g flour

5 g salt

frying oil
Preparation:
Boil salted water in a large pot

Once the water is boiling, add the flour and mix with a wooden spatula until the mixture is uniform and homogeneous.

Turn off the heat and use the spatula to work the paste. Once the paste is completely homogeneous, fill the churrera, a type of large tin or brass syringe with several holes and handles.

In a large skillet, heat oil to 190°F. Add the chichis or churros until they are completely covered with oil. Do not touch the pan.

Once the dough is golden brown (3-4 minutes), remove it with a spatula and drain it in a colander. Sprinkle with powdered sugar. Serve immediately
La Sangria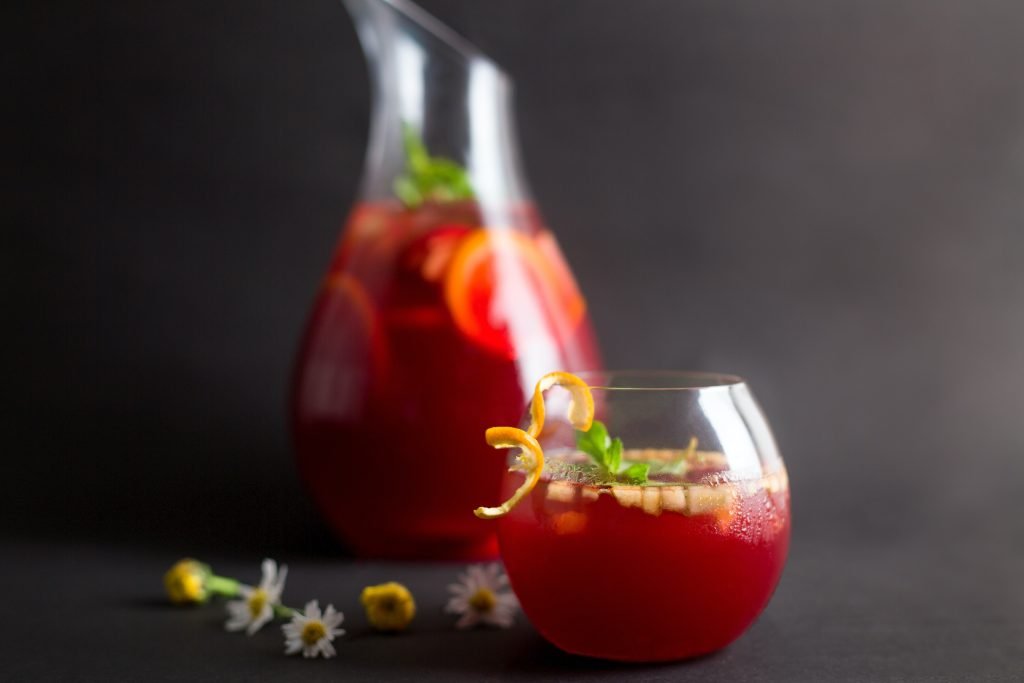 Sangria, a traditional Spanish alcoholic drink, is known throughout the world. It is served at lunches and dinners, as an aperitif or at parties with friends. According to the original recipe, it contains seasonal fruits and wines red, but there are many variations.
White Catalan sangria is one of the best known, made from wines It is intensely warming and refreshing, but also thirst-quenching. It is intensely warming and refreshing, but also thirst-quenching. Traditional sangria can be made at home by following a few simple steps and following the original Iberian recipe.
Ingredients for 10 persons :
2.5L dry white wine

2 lemons

3 peaches

½ tsp pepper

5cl orange liqueur

250g sugar

2 oranges

2 cinnamon sticks

2 cloves

75cl lemonade
Preparation:
Mix 1 litre of white wine with the spices. Add half the sugar. Cover and leave to infuse for an hour.

Add the remaining white wine, sugar, liqueur and fruit to the bowl.

Mix well and leave to cool in a dark place for at least 24 hours. Better still, 72 hours is ideal.

Just before serving, add the lemonade.
Iberian Ham:
What is Iberian ham?
Spanish ham is the most famous example of Spanish gastronomy. It is made from the meat of the Iberian pig. This breed of pig is easily identified by its dark or black coat or hooves, hence the term "pata negra" (black ham).
Where to find them?
The ham leg is a common feature in all bars and restaurants in Spain. Upon request, a member of the bar staff cuts the ham into delicious slices to create one of the country's most unique taste sensations. Spain produces 40 million hams each year, making it a popular choice for tapas.
What to cook with it?
There are many ways to use Iberian ham. It delights taste buds of all ages, whether served as a tapas, with tomatoes, olives or as a complement to turbot fillets.