Travel list for babies and children
What you need to take with you when travelling with your baby or child can vary depending on factors such as where you are travelling, the length of your stay, the age of the child and the type of activities you will be doing.
If you are travelling for more than a day with your baby or toddler, it is recommended that you carry all their belongings in a pram. This includes nappies, wipes, clothing for different weather conditions, snacks and water bottles.
For babies over six months, they must have their own seat on the plane, which is usually required on planes with more than one row of seats.
A list of what not to forget when travelling includes things like dummies, toys that make noise (not electronics), medication for infants and children.
Here is a list of items you may want to bring with you when you travel. This list is not exhaustive and it is up to you to add other items according to your personal needs. A suitcase should weigh about 15 kg, make sure it does not exceed the weight limit of the luggage at the airport.
Before going on holiday with a baby or child
Check the expiry date of the passport
Vaccinations : Polio, Malaria, Typhoid, Typhus...
Check the vaccinations to be done according to the country
Documents to have on holiday with a baby or child
Passport, visas, identity card
Tickets (aircraft(train, boat, bus...) return journey
Copies of all official documents (passport, licence, flight ticket)
Vaccination booklet according to destination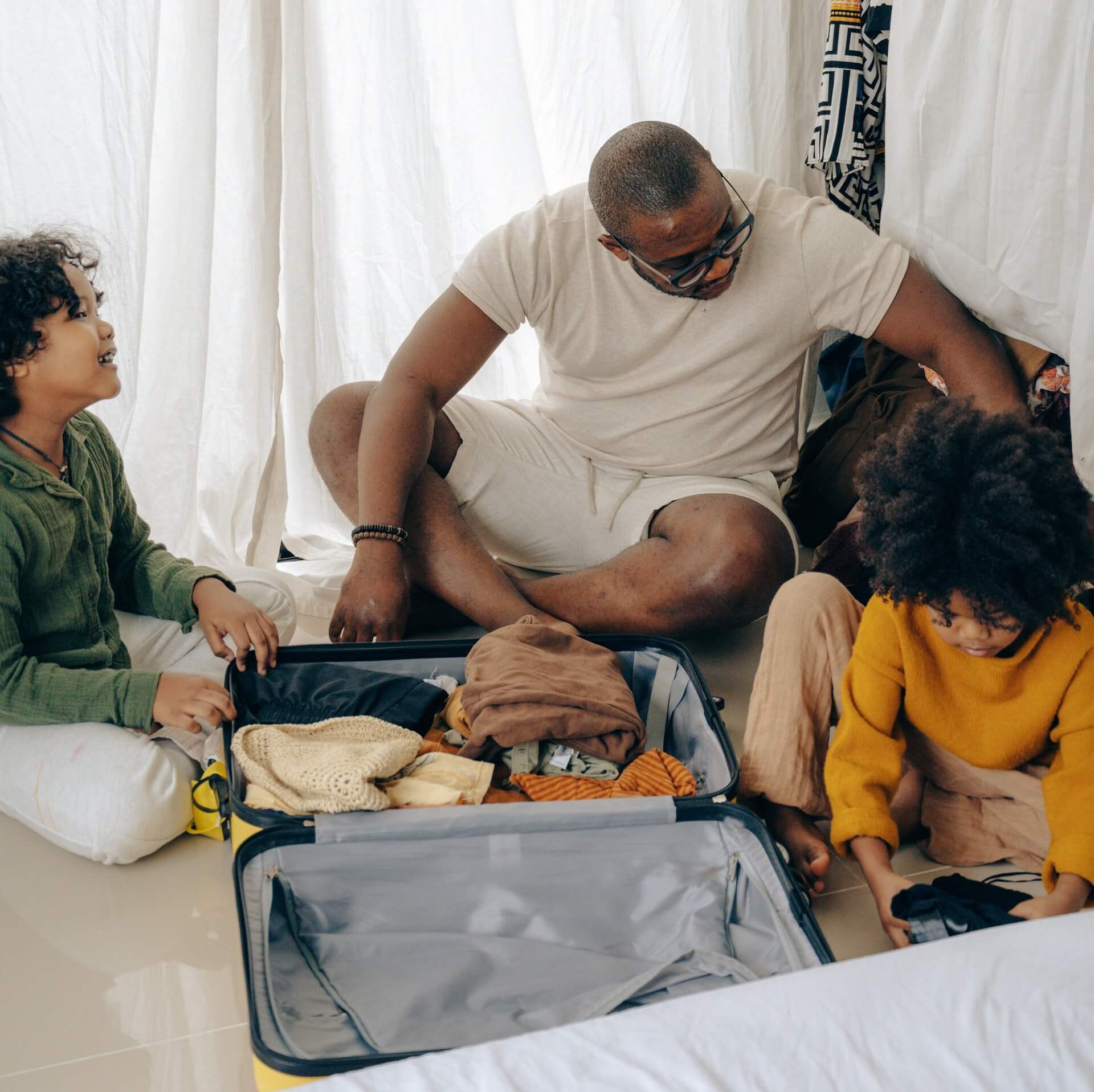 What to wear on holiday with a baby or child
2 bodysuits per day
Pyjamas
Shorts, trousers
Packages
DressesT-shirts
Panties
Hats, caps, bonnets
Shoes
Jumper (to keep for the plane)
Waistcoat, pancho, jacket
Socks
Coverage
Gloves
Sleeping bag
The essentials for feeding a baby or child on holiday
There are a few things parents should keep in mind when making their suitcases for a trip with their children. The key is not to pack too many clothes. Parents should dress their children in layers and pack less clothing than they think they will need, as children will grow up quickly and it can be difficult to predict how much they will wear for a day.
The other essential element is food. Parents should pack snacks, but more importantly, they should pack a cooler full of food that will stay cold for about 24 hours. It is best to have lots of different types of food so that if your child doesn't like something one day, he or she can eat something else the next.
Bibs 100% plastic or silicone
Short flank steak between meals
Bottle brush
Spoon and fork
Milk powder
Compartment box for milk doses
Feeding bottles (provide 2 just in case)
Baby bottle warmer
Food
Small bottle/water bottle with straw for travel
Sterilisation tablets
Meal kit with plate, bowl and bamboo tumbler
Flask water
[affimax keyword="Bib" merchants="amazon" template="carousel"]
The essentials for the hygiene of a baby or child on holiday
There are many things to consider when deciding what to pack for a holiday with a baby or child. The most crucial is the child's hygiene and the next is to ensure that the child can enjoy his or her stay in a high hygiene environment.
Some countries, such as Italy, the France and China, have very strict rules about what is allowed in hotels and restaurants. It is therefore important to know before you leave to theforeign with your toddler. This will help you avoid any unpleasant surprises or misunderstandings.
Toothpaste (in bunker)
Toothbrush
Shower product (in the hold)
Bath thermometer
Saline solution (in the hold)
Antiseptic cream (in the hold)
Other medications (e.g. homeopathy for toothache)
Moisturising cream (in the hold)
Pain relieving suppositories
Glycerin Suppositories
Diaper cream or cotton buds
Nappies (5-6 per day)
Waterproof nappies for the pool / sea
Garbage bags (for dirty nappies)
Wipes
Talc
Potty or toilet seat
Misting device for hot days
Towel toiletries
Total screen 50
Special baby/children's cotton buds
Brush
[affimax keyword="cot" merchants="amazon" template="list"]
Things to remember too!
[affimax keyword="Inflatable Bathtub" merchants="amazon" template="grid" rank="on"]
The comforter(s) and a duplicate if possible
Socket covers
Sunglasses
Chew toys / games
Plush toy
Baby monitor
2 teats
2 teat clips
Pram
Baby bottle warmer
Swimming costume
Baby buoy
Mosquito net
Front or back carrier
Play mats
Changing mat
Nightlight
Breast pump if used
Inflatable bathtub if required
Changing bag
Her/his favourite little history book(s)