What should you take with you on a motorhome trip?
Are you planning to go on holiday in the near future? motorhome ? You should know that it is important to prepare its luggage so that you have everything you need for a pleasant stay without any surprises. In this article, we have put together the main things you will need for your escapade in motorhome. From basic equipment to more specific items, we explain everything you need for your stay.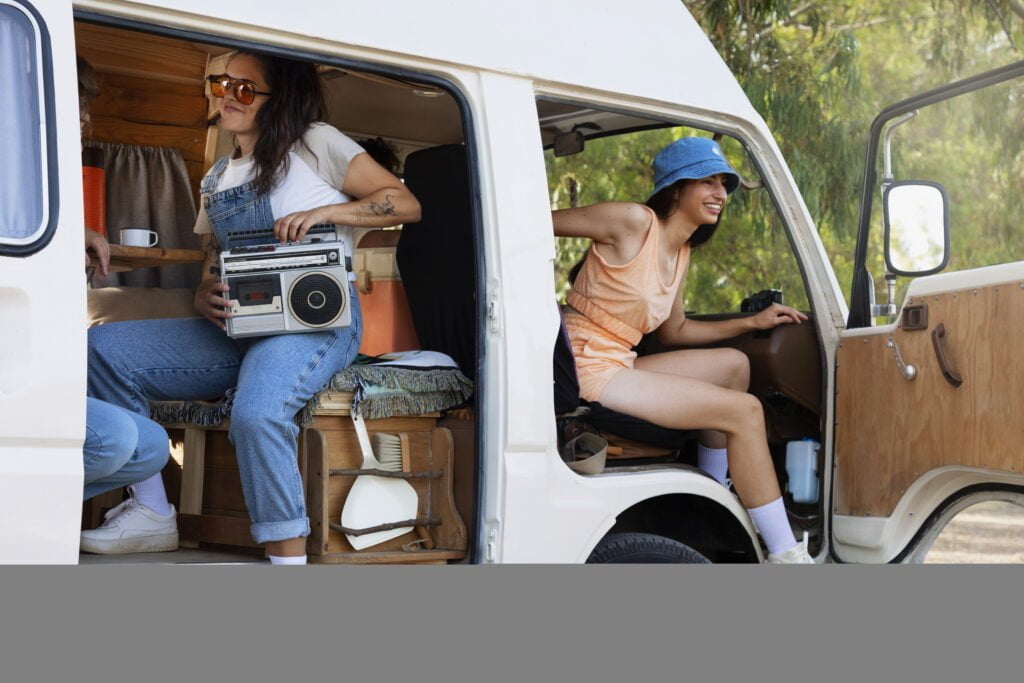 What equipment is needed?
When you leave motorhomeThere are a number ofnecessary equipment to take for your safety, comfort and enjoyment in order to optimise your camper van trip and have an unforgettable experience, so we have listed them for you.
Safety equipment
A fire extinguisher : You must ensure that you have a fire extinguisher on board a motorhomebecause in the event ofFireThis is a quick and effective way to control it.
A GPS and a map : GPS is very useful to find your way, you can use it to refer to and help you avoid traffic jams. Plan a paper map of the country or the area you wish to visit to guide you in case the GPS loses reception or breaks down.
A first aid kit care : This is essential for any travelBut it's even more important when you're away from medical care. Make sure you take medicines to relieve pain, bandages, anti-inflammatory products, etc.
A toolbox : In case of a mechanical or functional problem during your journey, you should have the necessary tools at hand to repair or change a tyre quickly.
A torch : Having a torch on board is always useful, it can help you to lighting in situations where there is no electricity or at night.
Comfort and entertainment facilities
A television : Television can be very useful for to have a good time and entertaining during the travel.
A radio : A portable radio can be a great companion on the road, especially for listening to live music or news, without using your vehicle's battery.
Books and board games: Reading and playing games are fun and entertaining ways to spend time with your loved ones.
A folding table and chairs: A table and folding chairs are available for use in the essential for picnics and enjoying the outdoors during your excursions. You can also use them to relax around the campfire.
Kitchen equipment
Kitchen utensils : You will need kitchen utensils for prepare and serve your meals. Make sure youcarry knives, forks, spoons, etc. dishes and platesIf the vehicle does not have one. You can also take along specialised kitchen utensils, such as cake tins and muffin tins.
Remember to check that your vehicle has the household appliances such as the coffee makerthe kettle or the toasterto help you with your travel. And don't forget to bring tins of food and bottles of water in advance!
What are the essential accessories?
Although the basic equipment is required for a travel in motorhomeaccessories are just as essential for getting the most out of your travel.
If you are planning to carry out activities during your travel in motorhomeyou need to provide the accessories and clothing adapted depending on what you plan to do.
Remember to take along comfortable and durable walking shoes, of clothing of rain to protect you from the elements, from binoculars to observe birds and the wildlifeYou will need to bring your own clothes, gloves, headgear, individual torches, blankets and sleeping bags.
To maintain the motorhome in good condition, you owe it to yourself to spend a little time on it. Remember to take along cleaning and maintenance products for interior cleaning. Specific products for motorhome are commercially available and can help you to clean and maintain your vehicle easily.
Finally, to make the most of the space in your motorhome, take along storage accessories as boxes and watertight boxess, the backpacks or storage bags. These accessories will help you keep your motorhome tidy and limit the things you need to bring.
To conclude, travel in motorhome is a adventure passionnante and unforgettable, but you need to be well prepared. We hope this article has helped you create a comprehensive list of things to take with you to your next travel.