What to visit in Costa Rica by 4X4?
Want to discover the Costa Rica How else? A 4WD experience is an excellent option for exploring the country. You will have the opportunity to enjoy breathtaking landscapes and immerse yourself in the local cultureYou can do this at your own pace. Find out in this article which are the best destinations to be visited by 4X4 in Costa Rica.
Why is Costa Rica the perfect place for a 4×4 road trip?
The Costa Rica is a travel destination offers adventurers a unique variety of landscapes and landscapes to explore.activities exciting. With its wonderful beaches of white sandwith its dense jungle and majestic mountains, the Costa Rica is the ideal place for a road trip by 4×4. Travelling through the Costa Rica by 4X4 is an excellent way to discover the natural beauty of the country. The winding roads and steep trails offer spectacular views of the coast and through the rainforests. Whether exploring the old colonial towns, exploring the archaeological sites or simply drive along the picturesque roads, a travel in a 4X4 is a fun and exciting way to discover the Costa Rica.
In a road trip at Costa RicaThere is something for everyone. From heavenly beaches to wild streams running through the jungle, active volcanoes, and the parks national parks with a multitude of rare species, the Costa Rica offers an experience of travel unique and unforgettable. Visit historical cities such as Cartago, Heredia and San José offer visitors the chance to discover the country's rich history and meet its friendly people. Another advantage of a road trip at Costa Rica is that it allows you to enjoy the many entertainments that the country has to offer. There are a variety of restaurants offering dishes and lively nightclubs that allow visitors to enjoy local music and entertainment. Costa Rican culture.
You can also explore the country's beautiful nature reserves and see wildlife such as tapirs, jaguars and exotic birds. Finally, the Costa Rica is a very safe destination where you can drive without fear thanks to its well-maintained road network and the modern navigation systems available on site. What's more, the hotels often offer car rental 4X4 at very competitive prices, allowing travellers to rent a car in Costa Rica and easily organise their own road trip at Costa Rica without breaking the bank.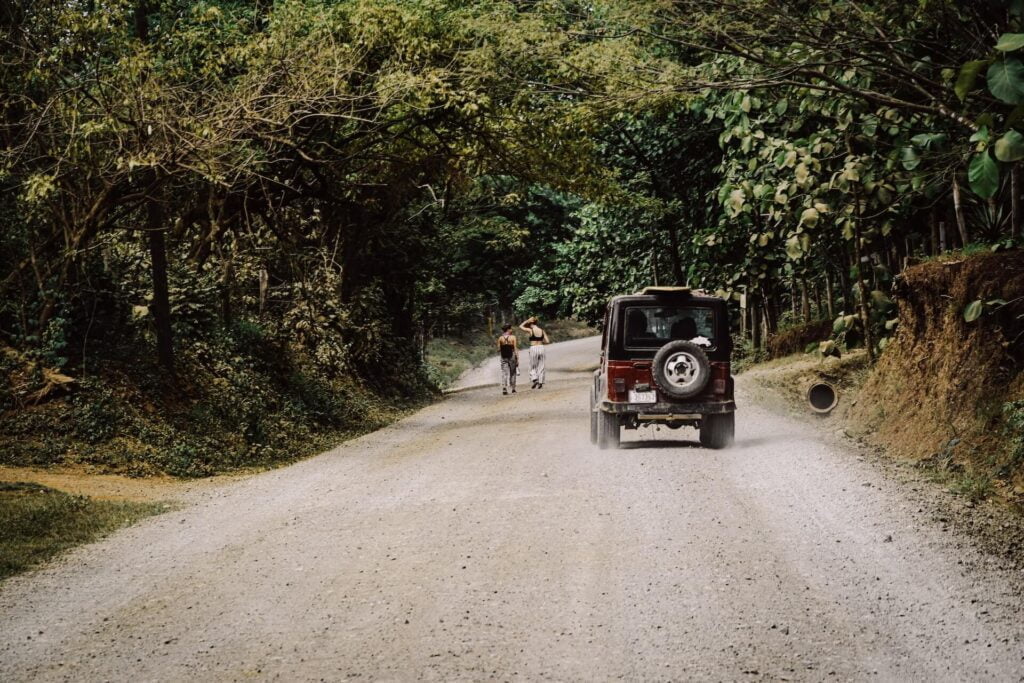 Top 10 best destinations in Costa Rica to visit by 4×4
Nature lovers and adventure seekers of all kinds are enthusiastic about the Costa Rica. This country does not only have heavenly beachesThere is a wide variety of landscapes that lend themselves perfectly to exploration by 4×4. Here is our top 10 list destinations to visit at Costa Rica by 4×4.
1. The national park of the Poás volcanolocated about 70 km from San José, it offers one of the most more beautiful views of the Costa Rica. With an altitude of 2,834 metres, it is one of the most active volcanoes in the country. Once at the top, you can admire the crater, which measures 1 km in diameter, and enjoy a breathtaking view of the region.
2. The Braulio Carrillo biological reservelocated 40 km north-east of San José, it is considered one of the most important more beautiful tropical reserves of the country. You you will be able to admire a wide variety of animal and plant species, such as deer and monkeys, as well as a variety of amazing trees such as the cedar, guayacán and sangré de drago.
3. The Monteverde rainforest Cloud Forest Reserve: located 220 km northwest of San José, this forest is one of the most famous places in Costa Rica. It is known for its rare and endangered species such as quetzals and toucans. You can also discover a variety of wildlife and flora surprising.
4. National Park Manuel AntonioThis park is located about 160 km southwest of San José and is considered one of the most beautiful parks in the world. parks national Costa Rica and offers an incredible variety of animal species such as hooded monkeys, green iguanas and exotic birds. You can also explore its three beautiful beaches lined with spectacular palm trees.
5. Bahia DrakeSan José: located 210 km southwest of San José, it is known for its clear, calm turquoise waters that are home to a wide variety of colourful tropical fish. The secluded beaches are ideal for swimming as they are not very crowded and offer a peaceful setting surrounded by lush tropical forest.
6. Tortuguero National Parklocated 120 km north-east of San José, is home to the largest colony of wild green turtles in the Costa Rica - a must-see tourist attraction for those who want to see this spectacular animal in its natural environment. The park is also rich in wildlife such as the loggerhead turtle, American crocodile and the almiqui manatee.
7. National Park Rincon De La ViejaThe area is located 145 km northwest of San José and offers adventure seekers a unique volcanic landscape with nine active and inactive craters and six majestic volcanoes, including the 1,616m Rincón de la Vieja. There is also a variety of wildlife such as pumas, tapirs and jaguars, as well as a great diversity of unique vegetation.
8. National Park CorcovadoOsa: located on the Osa Peninsula, about 320 km southwest of San José, this protected area is home to the largest concentration of animal species in the Costa Rica including the ocelot , the jaguar , the agouti , the spider monkey , the land opossum , the toco toucan , the green parrot , the yellow parrot , etc .... It is also an ideal place to practice various water sports such as surfing, kayak and scuba diving.
9. National Park Barra HondaIt is located 230 km northwest of San José and is home to a community rich in biodiversity with several endemic species such as the bridled dogfish and the caiman crocodile. The deepest underground caves in the country are also accessible here. A large number of rare birds such as the black harpy eagle and the goliath stork can be observed here.
10. Peninsula PapagayoSan José: located 240 km northwest of San José, it has a magnificent landscape of turquoise lagoons bordered by lush jungle that reflects on the sea. You can observe humpback whales or go hiking. kayak around the islands . The pristine beaches offer an idyllic setting for relaxation.
Top 5 4×4 routes in Costa Rica
Roads and tracks throughout the Costa Rica are perfect for a adventure en 4×4. La diversité des paysages est impressionnante et la wildlife is spectacular. From seaside From the mountains to the rainforests, travellers will find many opportunities to explore this uniquely beautiful country. Here are five routes that will delight 4×4 adventure enthusiasts.
The first route to explore is the Barva at the Barva volcano. This travel through the cordillera central Costa Rica begins in Barva, near San José, and ends at the impressive Barva volcano. This route offers magnificent views of the National Park Braulio Carrillo and its lush rainforests as well as varied landscapes and unique views of the volcano. Along the way, travellers can also visit some of the oldest towns in the Costa Ricaincluding Santa Cruz and Sarchi.
The second route is the one that links San Isidro del General in Uvita. This travel across the south of Costa Rica allows travellers to explore the mountainous Chirripó region and its wild rivers. On the way to Uvita, travellers will discover the wild beauty of the tropical forests and the pristine beaches of Playa Hermosa and Dominical. Diving enthusiasts can even enjoy the exceptional marine biodiversity of Punta Uvita. The third route takes travellers from National Park Corcovado to Puerto Jimenez and Puerto Jimenez to Golfito.
This route offers visitors a unique opportunity to explore the largest national park from Costa RicaCorcovado, where they can observe a variety of incredible d'species wild such as sloths, tapirs, monkeys and exotic parrots. Once in the village of Puerto Jimenez, backpackers can take in the beautiful Drake Bay before continuing on to Golfito to enjoy the peaceful beaches and local attractions such as sport fishing and kayak. The fourth route starts in San Jose and ends in Monteverde via Santa Elena.
This route offers visitors spectacular scenery as they travel through a biodiversity-rich part of the Costa Rica known as the Arenal-Monteverde Natural Park. Travellers will pass by a number of stunning sites such as La Fortuna, home to one of the country's most beautiful active volcanoes; Monteverde with its flora Santa Elena with its nature reserves; La Palma with its charming village; and many others. Finally, the fifth route connects Limon to Cahuita along the coast Caribbean from Costa Rica.
This route offers visitors the unique opportunity to explore some of the country's most spectacular sites such as Cahuita National Park with its pristine beaches and turquoise waters; Tortuguero National Park with its canals full of crocodiles; Porto Viejo with its unique Caribbean atmosphere; Manzanillo Wildlife Refuge with its wildlife Hone Creek Area, home to a unique variety of endemic plants, and many more. Explore the Costa Rica by 4×4 is an ideal opportunity to discover a country full of unforgettable adventures, where each route holds surprises and spectacular discoveries that will delight young and old alike!
How to organise a 4×4 road trip in Costa Rica?
Organise a road trip by 4×4 to Costa Rica is sure to excite adventurers looking for unique experiences. This destination offers a huge variety of sites to discover, especially through 4×4 trips. It is therefore important to plan your itinerary carefully in order to fully enjoy the fascinating landscapes and exploration of the Costa Rica.
First of all, it is advisable to do your homework on the attractions tourist offered by the country. The natural beauty of Costa Rica is undeniable and there are many numerous parks nationalnature reserves and archaeological sites worth visiting. When preparing the travelIt is useful to consult the following guides tourist to find out about the strengths of the different regions and the local activities on offer.
The Costa Rica is also home to several heavenly beaches that are worth a visit. The Pacific coast offers travellers a wide choice of secluded and wild beaches, while the coast Caribbean offers a variety ofactivities and a festive atmosphere for those looking to party. The islands of the Nicoya Gulf are also renowned for their stretches of white sand and their turquoise water This makes it the ideal place for those who like to relax.
In addition, the winding roads of the Costa Rica are perfect for a exploration by 4×4. With an all-terrain vehicle, it is possible to travel through forested mountains, lush rainforests and unspoilt volcanic plains without fear of flooding or ruts. The marked trails are steeped in history and provide endless inspiration for those who wish to explore the country in depth.
Finally, a travel at Costa Rica is the perfect opportunity to immerse yourself in the local culture and share wonderful moments with the warm-hearted people of the country. You can learn a lot about the traditional handicrafts, the folk music or the local gastronomy which is known for its variety and unique taste.
In addition, there are also specialised hotels with modern facilities to suit the needs of travellers at every stage of their journey. Organising a road trip by 4×4 to Costa Rica promises adventurers an experience rich in discoveries and memories to treasure for a long time. The diversity of sites to visit will make some days richer than others and will allow travellers to see this charming little Caribbean jewel in a different light. Costa Rica.
10 things to know before going on a 4×4 in Costa Rica
Planning a travel at Costa Rica 4×4 is an exciting activity, but it requires certain knowledge and skills to get the most out of the scenery and adventure. It is important to take the time to research what you need to know before you leave. Here are the 10 things you need to know before you leave by 4×4 to Costa Rica First of all, it is important to know the local regulations concerning road transport.
Persons driving an off-road vehicle must hold a valid international driving licence and comply with all applicable traffic laws. It is also necessary to take out a car insurance to cover all risks incurred during the travel. Next, it's important to find out about the weather and road conditions in advance. Visit Costa Rica offers a varied climate with wet and dry seasons, as well as frequent and heavy rainfall, which can cause flooding and landslides in some parts of the country. In addition, some roads can be difficult to drive on and require the use of a 4WD.
Similarly, it's best to plan the itinerary and stops in advance. It's important to take into account journey times and distances between the various places visited, in order to optimise the duration of the trip. travel. It is also preferable to anticipate activities which will be completed each day to gain maximum experience.
In addition, you need to take a few extra precautions in terms of diet and hygiene to ensure that the travel by car. In addition, you need to find out about the rules concerning protection of local wildlife as well as on regulations relating to protected areas or parks which can be visited during the travel. Travellers in 4×4 vehicles are also advised to the Costa Rica to familiarise themselves with the main attractions of the country before departure in order to facilitate the planning of their stay.
To do this, it's a good idea to consult a tourist guide or brochure to gather as much information as possible about the various sites to visit during the trip. travel. In addition, you should also think about bringing a kit additional tool kit if the vehicle breaks down or to carry out minor repairs during the journey. travel.
Finally, it's essential to carry a GPS or smartphone with a detailed map so that you can easily navigate secondary or rural roads during your tour. travel at Costa Rica in a 4×4. In conclusion, travel at Costa Rica 4×4 can be an unforgettable experience if you are well prepared and informed before you leave. The careful planning of the trip will allow 4×4 travellers to Costa Rica to fully enjoy the natural wonders of the country and the unforgettable adventures it offers.
In conclusion, the Costa Rica The country can be explored in many ways and a 4WD is an excellent way to discover the country. Offering you greater freedom of movement and access to the most remote sites, you can visit destinations such as lush rainforests, national reserves, secluded beaches archaeological sites and much more. In addition, you will be able to observe wildlife and enjoy the spectacular scenery that this Central American country has to offer.