Luxury holidays: what you can expect from a 5-star campsite
The camping, autrefois synonyme d'aventure rustique en pleine nature, a connu une véritable métamorphose ces dernières années. Aujourd'hui, les campsites 5 étoiles vous promettent une expérience alliant luxe, confort et immersion naturelle, repoussant ainsi les limites de vos attentes en matière de séjours en plein air.
A different way to discover camping
Definition of a 5-star campsite
Un camping 5 étoiles est la quintessence de l'excellence en matière d'hébergement de plein air. Cette classification, la plus élevée dans le secteur du camping, est attribuée aux établissements qui offrent non seulement des équipements de première classe, mais aussi une gamme complète de services exceptionnels. Ces campings sont caractérisés par leur engagement à fournir un niveau de confort, de luxe et de service qui rivalise avec les hôtels les plus prestigieux.
Pour obtenir cette prestigieuse distinction, un camping doit répondre à des critères stricts établis par les organismes de réglementation nationaux. Ces critères englobent tout, de la qualité et de la variété des hébergements disponibles, à la gamme des services offerts, en passant par la propreté et la maintenance des installations. Un 5-star campsite must also offer an unrivalled customer experience, with particular attention to detail and a focus on customer satisfaction.
Importance of star rating
In the world of tourism, star rating is a key indicator of the quality, comfort and services offered by an establishment. Far from being superficial, this classification gives travellers a clear idea of what they can expect in terms of facilities, welcome and overall service.
Pour les campings, cette échelle est essentielle. Elle permet aux clients potentiels de comparer rapidement et facilement les différentes options à leur disposition et de choisir celle qui correspond le mieux à leurs attentes et à leur budget. Un camping classé 5 étoiles, par exemple, garantit une expérience haut de gamme, avec des installations et des services de premier ordre.
De plus, pour les propriétaires et les gestionnaires de campings, obtenir et maintenir un nombre élevé d'étoiles est un gage de reconnaissance de leurs efforts pour offrir une expérience exceptionnelle à leurs clients. C'est aussi un outil de marketing puissant, attirant des clients prêts à payer une prime pour bénéficier du niveau de service promis par ce classement.
Finally, star rating is often the result of regular inspections and quality audits. These processes ensure that establishments meet or exceed established standards, giving travellers added reassurance when choosing accommodation.
Top-of-the-range accommodation
La première chose que vous remarquerez dans un camping 5 étoiles, c'est la diversité et la qualité de ses hébergements.
Modern mobile homes
Lorsque vous pensez à un camping 5 étoiles, oubliez les anciens mobil-homes austères. Aujourd'hui, les mobil-homes dans ces établissements haut de gamme offrent tout le confort et le luxe que vous pourriez souhaiter. Avec des intérieurs spacieux, élégamment conçus, ces hébergements comprennent généralement des chambres séparées, des cuisines équipées, des salles de bains modernes et des espaces de vie confortables. De nombreux mobil-homes haut de gamme disposent également de terrasses privées, idéales pour se détendre en fin de journée.
Fully-equipped chalets
Les chalets dans un camping 5 étoiles offrent une combinaison parfaite d'intimité et de luxe. Ces structures en bois, nichées au cœur de paysages naturels impressionnants, sont le choix idéal pour ceux qui recherchent une expérience plus traditionnelle sans compromettre le confort. Dotés de toutes les commodités modernes, ces chalets sont équipés de chambres séparées, d'une cuisine complète, d'un espace de vie chaleureux et, dans certains cas, d'installations supplémentaires comme des jacuzzis privés ou des saunas. Leur charme rustique, combiné à des équipements contemporains, en fait des refuges idylliques.
Glamping tents and luxury lodges
Le « glamping », ou camping glamour, a révolutionné l'expérience de camping traditionnelle. Dans un camping 5 étoiles, vous pouvez vous attendre à des tentes somptueusement aménagées avec des lits confortables, de la literie de qualité, et souvent, un chauffage et une climatisation. Loin d'être une simple toile tendue, ces tentes sont spacieuses et ornées de détails luxueux. Les lodges de luxe, quant à eux, élèvent encore davantage l'expérience en offrant des espaces encore plus vastes et des commodités supplémentaires, telles que des bains à remous privés ou des terrasses donnant sur des vues panoramiques. Ces hébergements offrent l'expérience unique d'être en harmonie avec la nature, tout en bénéficiant d'un niveau de confort et de raffinement inégalé.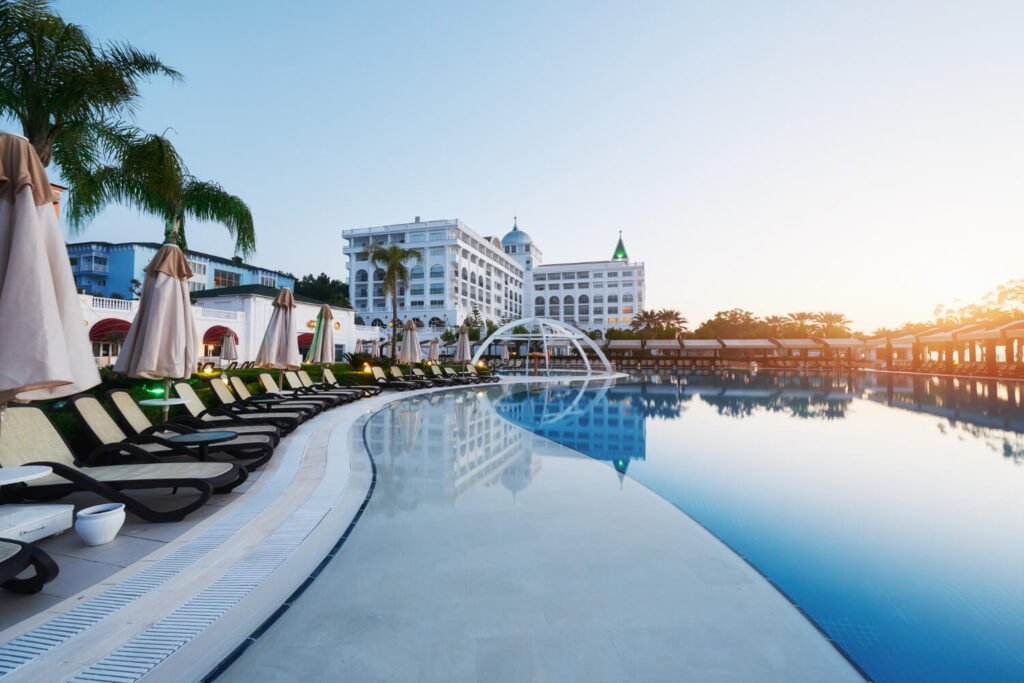 Exceptional services
Catering and gastronomy
Dans un camping 5 étoiles, vous pouvez vous attendre à des dishes worthy of the finest restaurants. Whether it's a hearty breakfast, a terrace lunch or a gourmet dinner, the quality is always there.
Wellness areas and spas
After a day of excursions, what could be better than relaxing in a wellness area? Saunas, steam rooms, massages and body treatments are often on offer for a moment of pure relaxation.
Children's clubs and entertainment
The little ones are not left out. Children's clubs, fun and educational activities, shows... everything is designed to keep them entertained and fulfilled.
Concierge services
As in a luxury hotel, the concierge is there to meet all your needs, reservations, specific requests, everything is possible.
The environment of a 5-star campsite
Location and environment are key to ensuring an unforgettable experience.
Close to nature
Ces campings sont situés dans des endroits préservés, permettant une véritable communion avec la nature, tout en offrant le confort d'un établissement haut de gamme.
Exceptional landscapes and locations
Qu'il s'agisse de la vue sur un lac, d'une plage privée ou d'une forêt dense, chaque camping 5 étoiles offre un cadre unique et mémorable.
The importance of staff in the luxury experience
Training and professionalism
Our staff are trained to provide impeccable service. Courtesy, professionalism and discretion are our watchwords.
Customer service quality
Customer satisfaction is paramount, so expect to be treated with care and attention at every stage of your stay.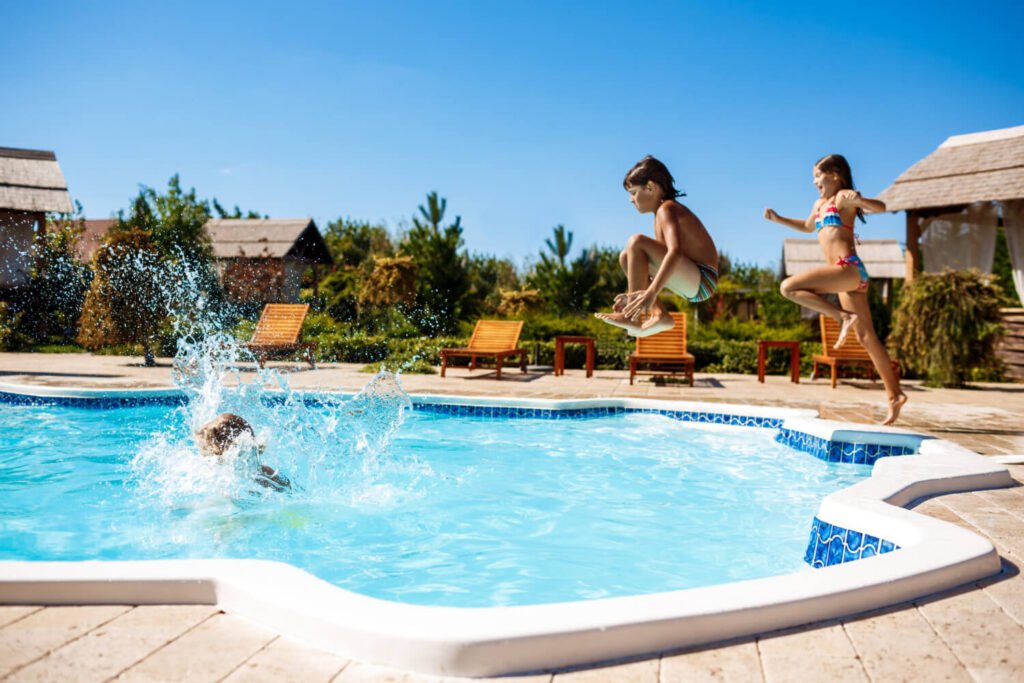 Safety and tranquillity: criteria for choice
Surveillance and guarding
Votre sécurité est une priorité. De nombreux campings 5 étoiles sont équipés de systèmes de surveillance et d'équipes de gardiennage pour garantir votre tranquillité d'esprit.
Secure facilities
Whether for swimming pools, playgrounds or other facilities, everything is designed to guarantee safety for young and old alike.
Conclusion
The promise of a memorable experience
Un séjour dans un camping 5 étoiles est plus qu'un simple séjour en plein air. C'est une expérience de luxe, combinant nature, confort et services d'exception.
Current trends in 5-star campsites
En constante évolution, ces campings s'adaptent aux besoins modernes, proposant des technologies de pointe, des hébergements toujours plus confortables et des services toujours plus personnalisés. Une tendance qui confirme que le luxe et la nature peuvent parfaitement coexister.